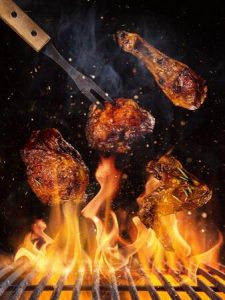 At this point in summer, it's usually hard not to think about the heat. No matter where you live, you're likely dealing with some high temperatures. Things are hot enough around you that the last thing you want to think about is the risk of fire.
Summer actually comes with a slightly lower rate of house fires than November and December. Still, the risk is always there and it's important to know how these fires start if you want to prevent them. Here are some of the leading causes of summer fires:
Air Conditioning
During the sweltering summer days, it's understandable if you want to cool down. Just know the risks involved with a window air conditioning unit before you install one. These units cause more than 7,000 fires per year in the United States so be sure to take the proper precautions if you are going to use one.
Grilling
In many parts of the country, it's not as easy to grill during non-summer months. The temperature and increased precipitation make it difficult to do then, so you want to go all out once the weather warms up. Well over half of the nearly 6,000 grill fires that s occur annually in America take place during the summer, mostly due to mishandled propane. These deadly fires cause more than $37 million in property damage each year. Be sure you know how to use all the equipment involved and don't grill too close to your house.
Fireworks/Arson
Arsons, among the leading causes of housefires, peak around this time of year, specifically around Fourth of July weekend. Meanwhile, suspicious fires, whose origins are unknown, also see their peak around this time. Many of these fires are caused by fireworks, generally those shot off by amateurs. It's important to store fire works in a safe place and not to use them too close to your house.
Knowing what the causes of summer fires are can help you know what to look out for. But if a fire occurs despite this, it's important to have a final line of defense. That's where Fire Tech Residential Sprinklers comes in. We can give a quick, accurate and free estimate, install sprinklers in your home, condo, townhouse or apartment and then can perform inspections that work with your schedule. Contact us to learn more today!