Summertime means backyard barbecues, moonlit bonfires, and amazing firework shows. There are many exciting activities to participate in during the summer season, but it is important to practice safety procedures while dealing with fire.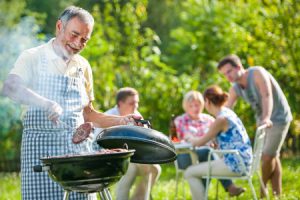 Summer is one of the most dangerous seasons for fire-related injuries and deaths.
There are a few different precautions to take this season to ensure your safety while engaging in fire-related activities. Here are some helpful tips:
Bonfires– Creating a bonfire at a campsite or in your backyard can be an exciting way to bond on a summer night. Building a bonfire is fairly simple but can result in serious injury if done incorrectly. It is important to place a barrier between yourself and the fire, bricks, and stones can help define your bonfire pit. Be sure to have a large supply of water nearby. When the bonfire is over be sure that the fire is completely out before leaving the pit unattended.
Barbecue– According to the National Fire Protection Association, outdoor grilling causes an average of 8,900 home fires. It is important to set up your barbecue grill outside in an open area with level ground. Before starting your grill, thoroughly clean any residual grease or buildup. Stay prepared by keeping a fire extinguisher nearby.
Fireworks– Summer is the perfect time to watch amazing firework shows. With the Fourth of July approaching, it is important to keep firework safety tips in mind. Before purchasing fireworks check your local laws to see if fireworks are legal in your area. Be sure to read the instructions on firework labels carefully. Some fireworks are for professional use only-avoid purchasing these kinds. When lighting fireworks always keep the fire pointed away from yourself and other people. Remember to keep these items away from children and keep a fire extinguisher nearby in case of emergency.
Summer is a great time to bond with friends and family. Remember to take the necessary precautions to be safe when dealing with fire.
Fire Tech Residential Sprinklers LLC is dedicated to keeping your family safe. We specialize in installing residential fire sprinkler systems in Maryland, Washington DC, Virginia, Pennsylvania Baltimore Metropolitan Area. Contact Fire Tech Residential Sprinklers today for your free estimate!