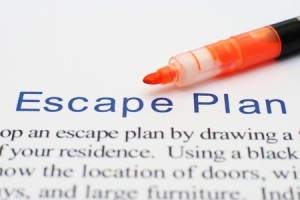 When it comes to fire prevention and safety, preparedness is key. Having a plan that facilitates fast action with minimal deliberation can greatly increase your chances of escaping a house fire unscathed. If you have children in your household, having a plan of escape in case of a fire is downright imperative. But where to begin? How might you best ensure safe passage for you and your loved ones in this terrifying scenario?
Have the Right Equipment
Fire extinguishers near high-risk areas are certainly better than nothing, as long as you make sure they're properly inspected and maintained for effectiveness. The best way to protect your home, of course, is by having a fire sprinkler system installed. You'll still need to have a fire escape plan in place, but potential fires will have a much more difficult time spreading, making it easier to find a way out. Other items such as collapsible escape ladders and flashlights can be throughout your home where appropriate.
Make a Map
You and your family should sit down and make a map together to make sure it is firmly planted in everyone's mind, as well as on a hard copy in a safe place. Identify the location of any doors and windows in your home. These will be the lifelines to safety in a fire. As a general rule of thumb, it's a good idea to establish at least two routes of escape from any room in your home. If you have security bars on your windows, familiarize yourself and your family with the quick release mechanisms that allow you to remove them in case of emergencies. Ensure that doors leading outside are free from obstruction at all times. If your home is equipped with residential fire sprinklers, there's a good chance that you'll only have one room to avoid.
Rehearse
There's a reason why public and private facilities practice fire drills—they work. As the old adage goes, practice makes perfect. Organize fire drills and keep a close eye on the time it takes to exit your home. In a fire, every second counts. Practice at night with the lights off to make sure you're able to quickly find your way out of the house with your vision impaired. Teach children basic fire safety rules, such as the practice of testing doorknobs for heat before opening doors. Be sure to designate a spot well away from your home for you and your family to convene once you've escaped.
Fire Tech Residential Sprinklers are committed to providing the most reliable and effective residential fire sprinklers in Maryland, DC, and Virginia. However, we also encourage our clients to have a comprehensive family plan in place just in case disaster strikes.
[msh_feedburner]