A fire in your home can be devastating and extremely damaging to your property.  No family wants to endure such a tragedy, however, almost 400,000 home fires occur a year. Check out these tips to keep your home safe from the inside out.
The first step in preventing a house fire is to thoroughly inspect your home. You may need a professional to help with this process, to make sure that you haven't missed anything.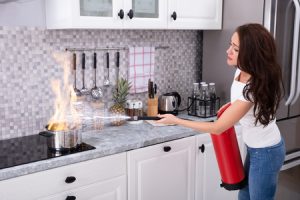 You should be inspecting the electrical wiring, plumbing, the heating, and air conditioning.
Check out your gas line system. Pay special attention to loose fittings, leaky valves, debris, or even improperly stored flammable materials near major appliances.
Confirm that appliances and household items are being used properly. The stove and oven should be cleaned regularly, to prevent grease build up. It is best to keep a fire extinguisher in your kitchen. Make sure filters are cleaned regularly and ensure that the exterior vents are also clear of debris. Also, check cords on any appliances that need to be plugged in. If they are frayed, it could lead to potential problems. Lastly, always make sure the lint trap for your dryer is clean. There are some that will need to have the inner ductwork serviced and cleaned out, but it could save a lot of hassle in the future.
Even if the above mentioned precautions are taken, accidents to occur.  Therefore, we highly suggest that at the top of the list of precautions, a sprinkler system should be installed in your home.
If a fire occurs in your home, a sprinkler system could be the thing that keeps the fire confined to a small space and extinguished quickly. The best part is these will work if you are home or not- because you can't always be there to protect yourself.
Fire Tech Residential Sprinklers is dedicated to protecting homes by providing high-quality fire sprinklers in Maryland, Washington DC, Pennsylvania and the Baltimore Metropolitan Area. Contact us today to inquire for your own sprinklers!