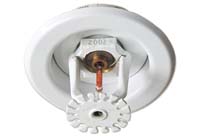 House fires may be prevented with simple measures and double checks, however, accidents happen and lives are put at stake. The best protective measure against loss of property and/or lives is a residential sprinkler system.
A residential sprinkler system is required to be installed by a licensed, professional sprinkler contractor. There are many factors which determine the type of system installed, the number of sprinkler heads required in the dwelling and the placement of the heads. In addition, there are various codes which must be met in order to gain compliance with the state inspection and approval guidelines.
Sprinkler heads are thermo sensitive which allows them to detect heat from a fire. When a fire starts, the air above the fire is quickly heated. Only the sprinklers affected by the heat will activate to extinguish the blaze.
On average, a single sprinkler head can reach a 20' circumference. Contrary to popular belief, not all sprinkler heads will activate to put out a centralized fire. As a result, water damage throughout the home is kept to a minimum.
Many types of sprinkler options are available to ensure aesthetic flow throughout a home.   Options such a recessed heads, concealed heads and cover plates in custom colors are available. In addition, wood grain finish plates are a custom cover alternative.
Should you have any questions regarding a residential sprinkler system, please contact our expert team at Fire Tech Residential Sprinklers, LLC. Our experienced and knowledgeable staff will provide you with accurate information and dependable, first-rate service.