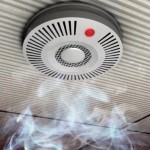 A home can go up in flames in under a minute. Being sure you have taken all the proper safety measures and having the right equipment in place is putting your most valuable interests forward. But having not only an effective sprinkler system in place could be crucial to saving you and your family's lives, but also is a well-kept and functional smoke detector.

Fire alarms are a great supplement to a sprinkler system for protecting your family and your home. Statistics not only show they can double your chances of escaping death, but they have actually cut house fire-related fatalities in half since the 1970's.

Regardless, about 3,000 people across the United States succumb to fire-related deaths annually, 40% of which were thanks to absent or poorly-functioning fire alarms. So having a plan in place as soon as you are alerted to a fire in your home is crucial to the lives of everyone in your household.
Some ideas include:
Mapping out and devising two ways to exit every room (window, door, back door, etc.)
Purchasing a folding ladder for escapes through upper window
Clean and test smoke detectors once every month
Change the batteries in your smoke detector once every 6 months
Completely replace every smoke detector in your house once every 10 years
Establish a post-exit meeting place outside.

Make sure everyone in the household is familiar with the escape plans and procedures. Installing the right equipment, such as sprinkler systems and fire alarms, gives you the power to save you and your family's lives. There isn't much of a plan you or your loved ones can enact if overcome by smoke inhalation.