In the unfortunate event of a home fire, a residential fire sprinkler system will save lives and property.  This system slows the spread of a fire and in most cases, it will extinguish the fire completely before the fire department even arrives. A fire sprinkler system can save your home, your possessions, and even your life. But even if you never have to use a home fire sprinkler system, it will pay off in a number of ways.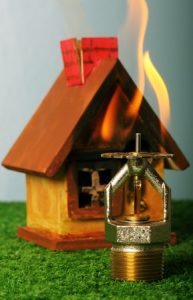 Here are the financial benefits of having a home fire sprinkler system installed in your home.
Lower home insurance rates
When home insurance companies find a home to be fitted with a residential fire sprinkler system, rates will often be lowered.  This is because a sprinkler system in your home will drastically reduce the risk of a home fire.  This is a win-win for both homeowner and insurance company.
Home protection with very little maintenance
There are some homeowners who mistakenly believe that a home fire sprinkler system will cost them a fortune to maintain. This couldn't be further from the truth. As long as you have a professional company install your sprinkler system, there is very little you will need to do with it. You should have it inspected regularly just to make sure there aren't any potential problems with it. But otherwise, your system will be maintenance-free.
Putting out a fire with little damage
If a fire were to occur in your home, it could burn through many of your personal possessions. And while your insurance coverage should help you replace them, there are many items that are simply priceless. There are others that you won't be able to replace completely. A home fire sprinkler system will prevent you from having to deal with this in the first place and help you avoid having to worry about spending money in home repair.
Now that you've seen just how much money you can save simply by installing a home fire sprinkler system, what are you waiting for? Fire Tech Residential Sprinklers, LLC can install your system at your convenience.