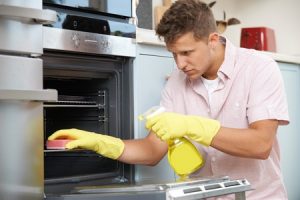 While cleaning, it is important to make sure that your home is as fire safe as possible.
Following are a few cleaning items to add to your to-do list to help prevent residential fires.
Replace Batteries
Make sure there are fresh batteries in your fire detector and carbon monoxide detectors. These devices should be tested often to ensure that they are working properly, and each spring is a good time to swap out the batteries as a precaution.
Electrical Check
Check to make sure that the electrical sockets are in orderl surge protectors in the home to be sure everything is safely plugged in.
Laundry Room
Be sure to check the dryer vent for debris/lint.  Dryer vents cause a large majority of residential fires, however, it is possible to prevent a potentially costly and damaging fire by clearing out these vents on a regular basis.
Kitchen
Double check to be sure there is a kitchen fire extinguisher in close proximity. If you keep a fire extinguisher under the sink, check the expiration date to make sure it is current. If there is a vent or a hood over your stove, be sure the vents are properly cleaned out.
Taking these extra steps as you clean your home this spring will go a long way towards preventing common causes of residential fires.
In the unfortunate event of a house fire, a residential sprinkler system designed and installed by a professional, licensed contractor will be invaluable.
Click here to learn about the services provided by Fire Tech Residential Sprinklers, LLC.  Our experienced and knowledgeable staff will provide you with accurate information and dependable, first-rate service.